Chi-Gasket has been developed to support the streamlining of external wall footprints whilst helping to maintain or improve thermal performance of the through-wall structure.
Chi-Gasket is a patented (GB 2541513) system component allowing rain screen installations to benefit from the low thermal conductivity values associated with aerogel insulants (synthetic amorphous silica) to reduce thermal bridging within the design.
The gasket is either held within a cage clipped directly to the bracket isolator, or the insulant is held within a sleeve which attached directly to a bracket. Consequently, application is as simple as fitting standard rain screen bracketry. The application is as easy as fitting standard rain screen bracketry.
Chi-Gasket has been developed for use with rainscreen support systems from Nvelope. Working in partnership with market leading suppliers, Euroform can assist specifiers in through-wall rainscreen construction.
Nvelope are experienced innovators, delivering pragmatic solutions in façade and rainscreen façade support systems, since the 1980s. Nvelope simplify the complexity of façade and are able to support almost any genre.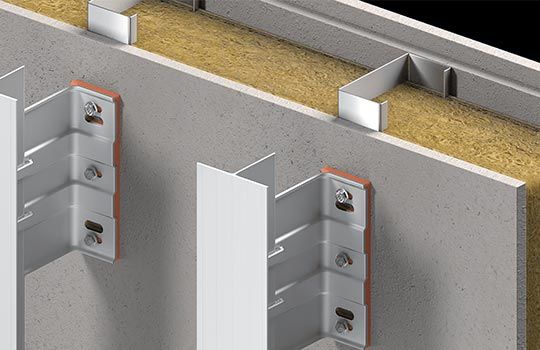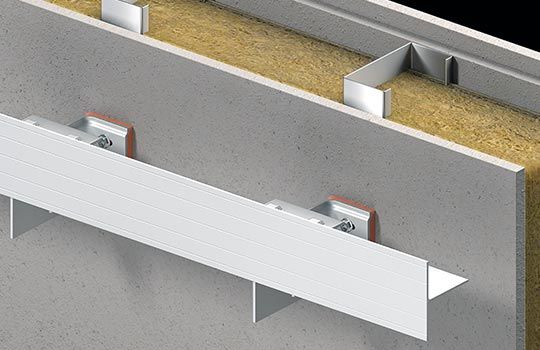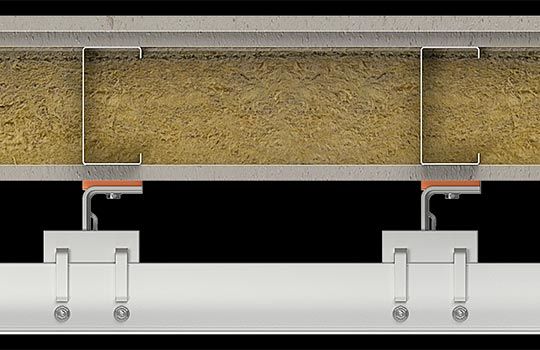 Benefits of Patented Chi-Gasket
Provides an enhanced thermal barrier between the external cladding and inner components of the assembly positioned closest to the building external wall
Offers superior thermal performance at reduced profile thickness compared to other insulation solutions.
Benefits of The Insulant
Hydrophobic repelling liquid water
Breathable allowing vapour to pass through helping to control corrosion under insulation.
The Chi-Gasket is used in rainscreen cladding applications where high thermal performance is required.
Chi-Gasket is suitable for:
Steel Frame Systems
Timber Frame Systems

Chi-Gasket
Chi-Gasket
Specification/Method
Value/Result
Reaction to fire (cage)
Small gasket exclusion
Hygrothermal performance
ETAG 004 2013
• Heat Rain 80 cycles
• Heat Cold 5 cycles
No visual deterioration observed
Wind Load Testing
Section 11 CWCT standard
No detraction to serviceability
Wind safety
Section 12 CWCT standard
Factor 1.5 x service load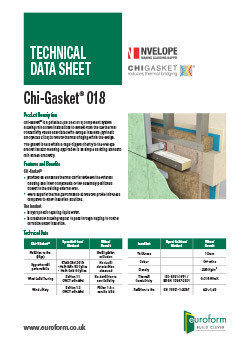 Insulant
| Insulant | Specification/Method | Value/Result | |
| --- | --- | --- | --- |
| Thermal conductivity | ISO 8301:1991 /BS EN 12667:2001 | 0.018 W/Mk | |
| Reaction to fire | EN 13501-1:2007 | A2-s1,d0 | |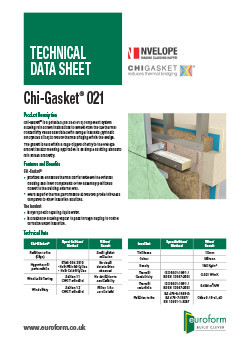 Insulant
Insulant
Specification/Method
Value/Result
Thermal conductivity
ISO 8301:1991 /BS EN 12667:2001
0.021 W/Mk
Thermal resistance
ISO 8301:1991 /BS EN 12667:2001
0.494 m 2 K/W
Reaction to fire
BS 476-6:1989 &
BS 476-7:1997/EN 13501-1:2007
Class 0 / B-s1,d0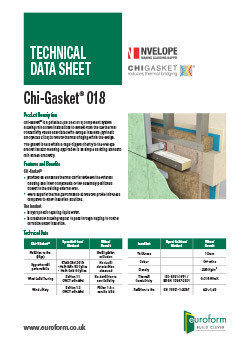 Download our Chi-gasket 018 Brochure
To ensure you have the latest version of this document call 01925 860 999.
Have questions about Chi-gasket?
Let's arrange a consultation.
About Euroform
Since 1995, Euroform has been successfully developing, fabricating and supplying materials for the construction industry. In that time, they have developed and cemented a reputation for innovation, expertise and reliability.
Address
Euroform
Unit 2, Lyncastle Road, Appleton,
Warrington, WA4 4SN
Tel: +44 (0) 1925 860999
Fax: +44 (0) 1925 860066
Email: Sales@euroform.co.uk