Gypsum and Plywood products are commonly used as a tiling substrate in showers where stud walls are common. Both these substrates are susceptible to deterioration if moisture penetrates through a crack or joint on a tiled wall or floor. Constant moisture penetration will cause both products to degrade over time and result in moisture related problems.
Versabacker is a water resistant tile backer board that will not swell rot or degrade over time and can accept a number of finishes including wall and floor tiles. When Versabacker Tile Backer Board is used and installed as per the recommended guidelines, these problems should not occur.
Euroform Versabacker Tile Backer Board is manufactured using inorganic substances and alkaline resistant fibreglass mesh. The product is naturally cured using no energy through cold fusion unlike similar competitive products on the market which use autoclaving technology. This ensures that Versabacker Tile Backer Board has a relatively low impact on the environment.
Versabacker Tile Backer Board achieves its superior strength and flexibility by the introduction of two layers of alkaline resistant glass fibre mesh. Consistent high quality of the product is maintained and monitored through a sophisticated digitally controlled process to ensure a superior finished board always reaches our commitment to quality assurance.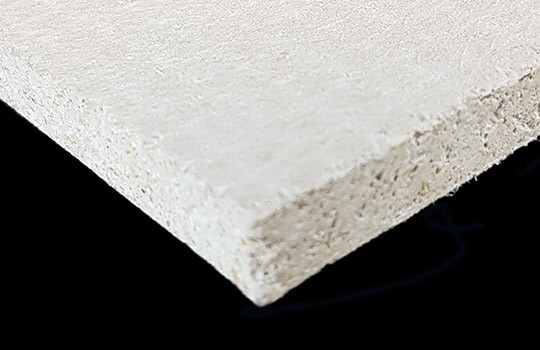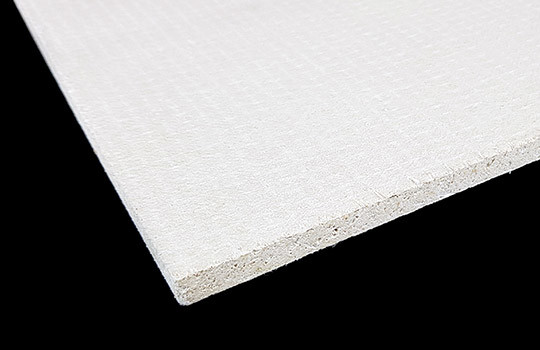 Thermal Insulation Properties
Provides a high level of thermal movements during hot and cold cycles (Thermal Shock)
Impact Resistant
An ability to withstand abuse, including surface impact – 34 N/mm
Low Carbon Manufacturing Process
A natural cured process with a chemical reaction using low levels of heat and a lengthy drying out stage
Moisture & Water Resistant
Versabacker Tile Backer Boards will not physically deteriorate when subjected to water or moisture
Rodent Resistant
Resistant to rodent infestation like mice and rats (also resistant to insects)
Easy and Fast Workability
Easy and simple to prepare and attach. Rough surface allows application of renders or direct paint/wallpaper
Mould Resistant
Unlike paper faced/wood based products, does not contain cellulose, limiting mould growth
Breathability
Ensures a healthy, durable working building with a natural ability to absorb and release moisture
Chemically Stable
Produced from natural inorganic raw materials, resulting in a strong, durable chemically stable board
Non-Hazardous to health
Will not cause harm to persons and/or the environment
Produced without asbestos or other inorganic fibres.
Internal Wet areas
Kitchen
Bathroom
Swimming Pool
Areas of high moisture
Apart from accepting a variety of painted/polished finishes, Versabacker Tile Backer Board provides an excellent compatible surface to a wide range of finishing materials i.e. paints, tiles, veneers, laminates or indeed any finishing option that comes to the creative mind of an architect or interior designer. The acceptance of Versabacker Tile Backer Board in the highly competitive international market stands testimony to its superior attributes.
Euroform Versabacker Tile Backer Board is supplied as a rectangular board with square edges and white in colour.
Thickness:
Sizes:
590 x 1195mm
1200 x 1220mm
1200 x 800mm
1200 x 2400mm (full sheet size)
Special size requirements and thicknesses are also available upon request depending on quantity.
Test Subject
Test
Result
Density Dry (ex works)
1050 kg/m
Modulus of Rupture 20 Nmm2
BSEN 310
20 Nmm 2
Modulus of Elasticity
BSEN 310
4.54 Nmm 2
Impact Strength (Brinell)
34 Nmm 2
Vapour Resistance
BSEN 12086 : 1997
2.0 MNs/g
Thermal Conductivity at 50°
BSEN 594
0.307 w/m/ºk
Fire Test
A1 Euroclass
Class
Non-Combustible
Change in thickness
(After immersion in water)
BSEN 317
0 - 0.1% Nmm 2
Tensile Strength
(Perpendicular to plane)
BSEN 319
2.11 Nmm 2
Screw Withdrawal Strength
BSEN 320
81.1N/mm
Pull through resistance (12mm)
BSEN 1382:199
1.969 KN
Average Thickness Swelling
BSEN 321
0
Average Tensile Strength
BSEN 321
2.04 Nmm 2
Moisture Content
BSEN 322
0.036
Enquire about Versabacker
Have questions about Versabacker?
Let's arrange a consultation.
About Euroform
Since 1995, Euroform has been successfully developing, fabricating and supplying materials for the construction industry. In that time, they have developed and cemented a reputation for innovation, expertise and reliability.
Address
Euroform
Unit 2, Lyncastle Road, Appleton,
Warrington, WA4 4SN
Tel: +44 (0) 1925 860999
Fax: +44 (0) 1925 860066
Email: Sales@euroform.co.uk