Versaliner is a non-combustible sheathing panel for timber-frame applications and off-site manufacturing construction methods, and helps provide a solution where cost-effective structural fire-resistant panels are required. As well as providing A1 Fire Performance to EN-13501-1, the Versaliner sheathing panel offers excellent impact resistance, racking resistance and convenient score-and-snap workability.
Timber frame construction is quite rightly regarded as a modern method of construction, employing offsite, standardised prefabricated components, developed to comply with building regulations for thermal, acoustic and fire performance as well as aspiring to current sustainability targets.
As with all methods of construction, the emphasis is very much on efficiency and flexibility, and timber frame systems certainly offer an efficient and flexible route to completion. For example, ready routes for wiring and plumbing are provided, dramatically reducing the amount of work required onsite. Plus, predetermined openings for doors and windows can be incorporated; whilst, once again, this results in a measurable acceleration of the construction process, it also increases dimensional accuracy. All of this results in shortened and, perhaps more importantly, predictable construction schedules.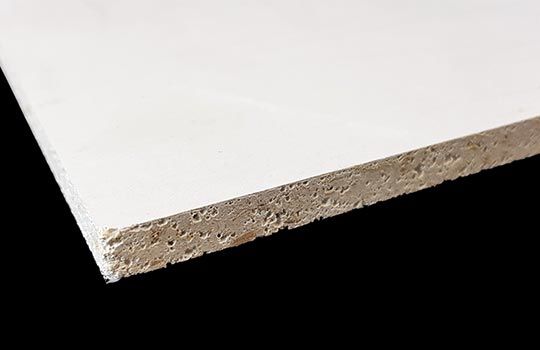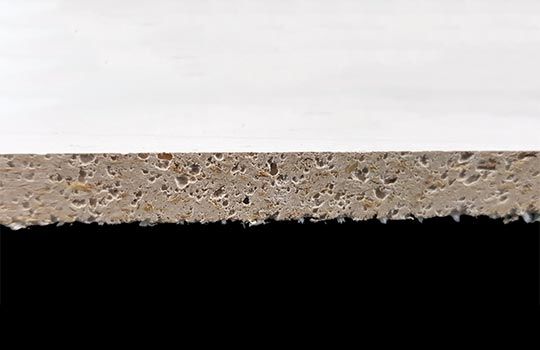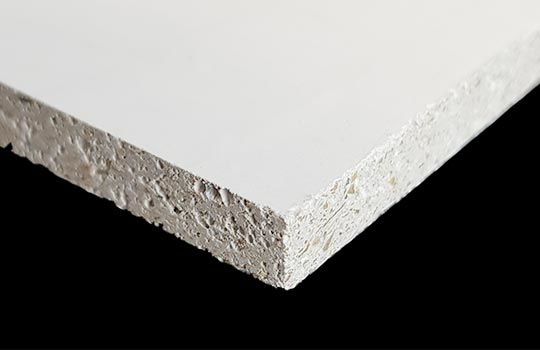 Impact resistant
Air Tight Panel
A1 Fire performance to EN 13501-1
Excellent racking resistance
Easy 'Score and Snap' workability
Versaliner is a non-combustible board and has been developed for timber-frame and off-site manufacturing construction methods
Versaliner helps provide a solution to the construction industry where cost effective structural fire resistant panels are required
Versaliner offers a major move forward in building board technology and has a track record of enhancing off-site manufactured construction systems
Versaliner has been specified and used in areas where there is a requirement for flood mitigation.
Standard Sizes 2400 x 1200mm
Special Sizes 2700 x 1200mm, 3000 x 1200mm available on request
Standard Thickness range 6, 9, 12mm
Versaliner has a smooth finish to one side, with a textured reverse and is off-white in colour.
Versaliner is a substrate that offers an excellent and easy surface for finishing in a wide range of treatments.
Tapered edge boards are produced with a tapered profile to the two longitudinal sides and with a square edge to the short edges.
Square edge boards are manufactured with square edges to all four sides.
Versaliner is Class A1 Reaction to Fire – EN 13501-1.
Versaliner has high resistance to fire and is a very durable product. It offers a good resistance to airborne noise when used in acoustic applications (contact us for details).
Testing Table
Density (dry at 40°C)
(EN 322:1993)
900kg/m 3 (+/- 10%)
Modulus of Elasticity E Flexion
(BS EN 310:1993)
3596 N/mm 2
(9mm board)
Thickness Tolerances
±1mm
Length Tolerances
±2mm
Width Tolerances
±2mm
Squareness on
panel diagonal difference
±2mm
Breaking Strength (MOR)
(BS EN 310:1993)
4.97N/mm 2
(9mm board)
Tensile strength (Thickness)
(BS EN 319:1993)
1.64N/mm2
(9mm board)
Softbody impact (partition system)
(BS 5234-2:1992)
Severe duty
ask for details
Thermal Conductivity
0.27 W/m°K
Compression Strength (min
7.07N/mm 2
Moisture Content (ex production)
(EN 323:1993)
12% ± 5 by weight
Reaction to Fire
(EN 13501-1)
A1
Thickness Swelling
(EN 317)
0.006
Dimensional Stability
<0.1%
Acoustic Absorption
aw=0.10
Water Vapour Permeability
9mm - 0.0149 gm/MNs
12mm - 0.0124 gm/MNs
Vapour Resistivity
9mm - 67 MNs/gm
12mm - 80 MNs/gm
Vapour Resistance
9mm - 0.7 MNs/g
12mm - 1.0 MNs/g
Figures are ultimate performances
Have questions about Versaliner?
Let's arrange a consultation.
Case Studies for Versaliner
Euroform's products, expertise and outstanding technical support in action.
Aubrey Street Timber Frame Apartments
Taylor Lane Timber Frame required a sheathing board solution that would enable them to safely build in close proximity to other buildings, with the risk of disproportionate collapse a serious consideration.
The Project: Aubrey Street Apartments, Herefordshire
Main Contractor: Speller Metcalfe
Subcontractor: Taylor Lane Timber Frame
Product:  Versaliner
Project Value: £1.4 million
Read More
A £1.4 million, five-storey development of some 1,700 square metres, accommodating 23 individual apartments, Aubrey Street in Herefordshire was a substantial project for timber-frame specialists, Taylor Lane.
Taylor Lane had been engaged by main contractor Speller Metcalfe, an award-winning sustainable construction company with expertise in BREEAM, Passivhaus and the Code for Sustainable Homes.
The Project
The development, for client Marches Housing Association, was to be constructed in close proximity to existing properties on three sides. As is often the case with developments where space and access is restricted, off-site construction methods were employed. Taylor Lane Timber Frame specialise in manufacturing structural grade C16 timber frame panels in a quality controlled environment.
Prior to Aubrey Street, Taylor Lane's timber frame panels incorporated an external sheathing layer comprising typically, either OSB or plywood, depending upon the application. Indeed, the specification for Aubrey Street had requested just these kinds of materials. Taylor Lane decided something more was needed.
The Challenge
The close proximity of the site to other buildings and the risk of disproportionate collapse meant that the consequences of accidental fire or even a possible arson attack had to be taken very seriously. This is a particular hazard faced by timber frame construction projects. In fact, the Structural Timber Association has launched several initiatives to combat this phenomenon, including detailed guidance.
According the STA guidance, "All buildings should have appropriate fire protection designed and built-in as early as possible and maintained throughout the entire construction phase… For smaller or low-risk sites, the general good housekeeping and standard approach may be more appropriate… For other sites the sub-division of the frame by fire-resisting barriers must be considered as part of the strategy for minimising fire spread risk during construction."
The Solution
Aubrey Street certainly didn't fall into the 'smaller or low-risk' categories. Consequently, Taylor Lane opted to use Eurform's Versaliner instead of the specified OSB.
Versaliner is an A1 Non-Combustible Magnesium Oxide sheathing board with excellent tensile, compression and breaking strengths, and high resistance to impact, moisture and insect attack. Excellent racking resistance means it is particularly suited to timber frame applications, offering additional stability. The fact that Versaliner is also 'score and snap' means it can be fabricated on-site without the need for additional, specialist cutting equipment or can be seamlessly incorporated into the streamlined processes of off-site, factory-based, quality-controlled construction.
Taylor Lane worked closely with Euroform's technical team, taking advantage of their expertise and experience in the complex area of passive fire protection, to ensure Versaliner was the appropriate product for this particular application.
Duly satisfied that all their criteria had been met and all their concerns addressed, Taylor Lane began incorporating Versaliner into their timber-frame panels as part of their off-site construction process.
A spokesperson for Taylor Lane Timber Frame said, "Versaliner enabled us to safely build on a site where fire risk was a significant factor. Without it, we'd have struggled to proceed. We're more than happy with the product, its very competitive pricing and ready availability."
About Euroform
Since 1995, Euroform has been successfully developing, fabricating and supplying materials for the construction industry. In that time, they have developed and cemented a reputation for innovation, expertise and reliability.
Address
Euroform
Unit 2, Lyncastle Road, Appleton,
Warrington, WA4 4SN
Tel: +44 (0) 1925 860999
Fax: +44 (0) 1925 860066
Email: Sales@euroform.co.uk