Euroform offer the full range of Rockpanel cladding products, including, but not limited to, Woods, Metallic, Chameleon and Lines. Collectively, this represents a massive array of colours and styles suitable for a broad range of construction applications, including facades, roof-edges, ceilings, entrances and infilling. It cannot be underestimated just how significant a contribution these exceptional products have made to the brightening and enlivening of the British urban skyline in the Twenty-First Century.
Your creativity doesn't have to be compromised when it comes to selecting an exterior façade cladding system. Our extensive range of external cladding boards allows you to choose and specify the right façade system at the right time for the right project.
Incredibly easy to work with, cost efficient and above all aesthetically attractive, the exterior of your building can be brought to life with our easy to shape and highly versatile broad range of products, available in an assortment of colours and designs to suit your creative needs.
With a minimum amount of waste together with ease and speed of installation, choosing Rockpanel products also make financial sense too. Overall, it's amongst the most cost efficient methods of cladding renovation or new build projects.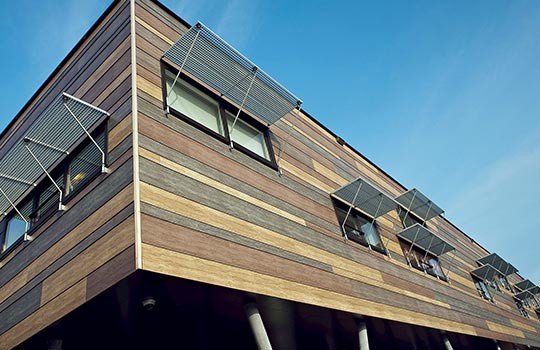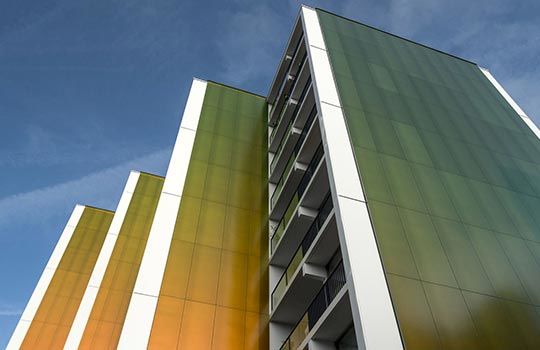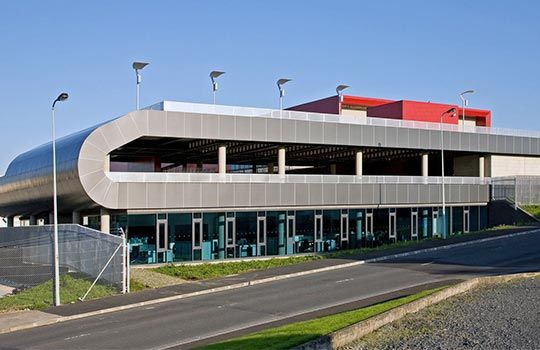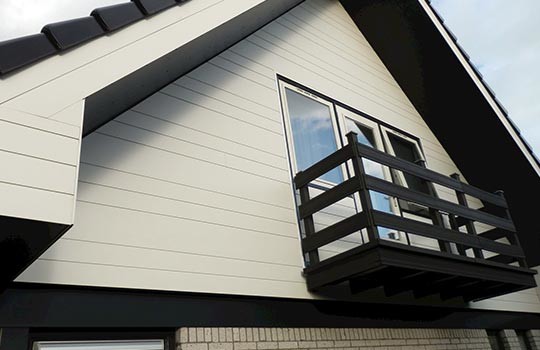 Rockpanel Woods Cladding Material is almost impossible to distinguish from real wood, thanks to the innovative process by which the wood-grain effect is added to the product ensuring there is no repetition of the wood-grain patterns.
Rockpanel Woods are available in a wide range of colours and effects: Beech, Teak, Alder, Cherry, Mahogany, Merbau and Oak; Rhinestone Oak, Ceramic Oak, Marble Oak, Slate Oak and Carbon Oak; Ebony Slate, Ebony, Ebony Marble, Ebony Limestone and Ebony Agate.
Rockpanel woods are ideally suited to façade/rainscreen cladding and ventilated facade systems applications.
Euroform offer the full Rockpanel Woods range, including Durable, Xtreme and FS-Xtra.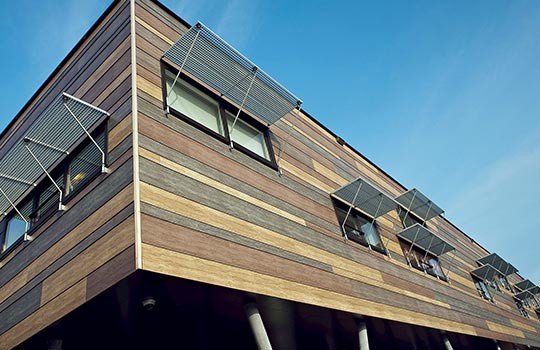 Why have just one colour when you can have an entire array of colours. Rockpanel Chameleon, similar to its extraordinary reptilian namesake, changes colour depending on the angle from which the cladding panel is being viewed, thanks to an innovative crystal layer.
Rockpanel Chameleon is available in four distinctly different colour effects:
Green to Light-Grey to Pink
Green to Grey to Pink
Orange to Green to Brown
Purple to Blue to Green
Rockpanel Chameleon is suitable for general rainscreen cladding and roofline applications.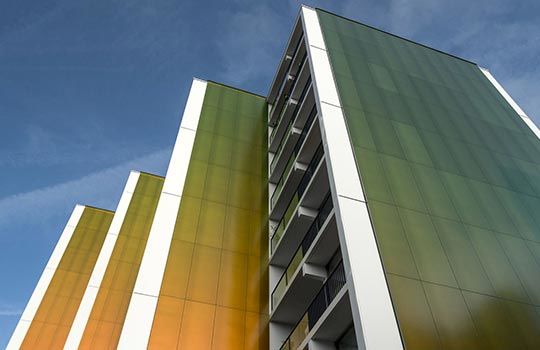 Lustrous and resilient, the Rockpanel Metallics cladding range of façades and rainscreen cladding materials offers the perfect combination of eye-catching aesthetics and robust functionality.
Available in White Aluminium (RAL9006), Graphite Grey, Anthracite Metallic, Grey Aluminium (RAL9007), Bordeaux Red, Azurite Blue and Night Blue.
Euroform offer the full Rockpanel Metallics range, including Durable, Xtreme and FS-Xtra.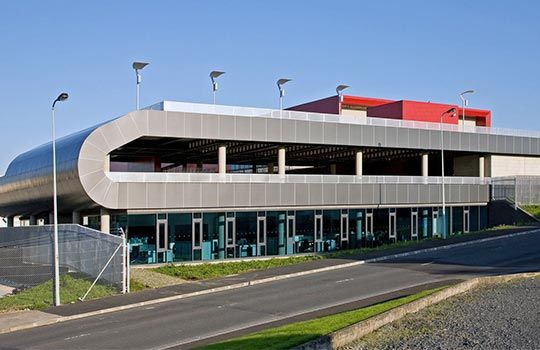 Nowhere more so than in construction does the old maxim 'time is money' hold true. The main driver for the vast majority of modern methods of construction is to reduce on-site construction time by offering off-site, prefabricated construction products.
The Rockpanel Lines cladding range is a welcome addition to the contemporary construction toolbox. Rockpanel Lines use an innovative tongue-and-groove design to make installation quick and easy.
Available in a variety of widths, thicknesses and colours, Rockpanel Lines are suitable for façade cladding and ventilated cladding applications.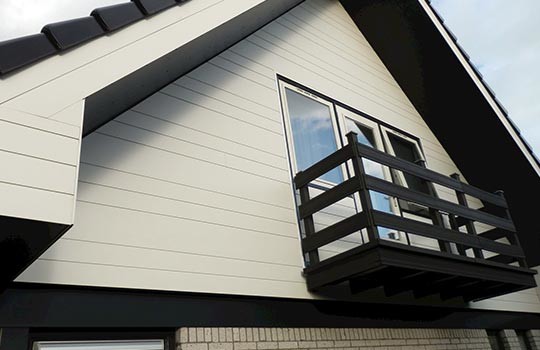 Have questions about Rockpanel?
Let's arrange a consultation.
More Case Studies from Euroform
Euroform's products, expertise and outstanding technical support in action.
About Euroform
Since 1995, Euroform has been successfully developing, fabricating and supplying materials for the construction industry. In that time, they have developed and cemented a reputation for innovation, expertise and reliability.
Address
Euroform
Unit 2, Lyncastle Road, Appleton,
Warrington, WA4 4SN
Tel: +44 (0) 1925 860999
Fax: +44 (0) 1925 860066
Email: [email protected]