Versapanel is a cement bonded particle board intended for both internal and external use which has very high levels of performance in the presence of moisture and has high resistance to fire.
Versapanel conforms to the European Standards EN 634-1 for cement bonded particle boards. This specifies the requirements for particle boards bonded with Ordinary Portland Cement (OPC) for use in dry, humid and exterior conditions. Versapanel is CE marked in accordance with EN 13986.Versapanel also complies with the general requirements as listed in EN634-1 together with the requirements set out in table 1 of the standard.
Euroform have invested years of experience, expertise and commitment to excellence in creating a cement particle board that is specified for its quality, performance and reliability. As a result, Versapanel is one of the most comprehensively tested cement particle boards on the market.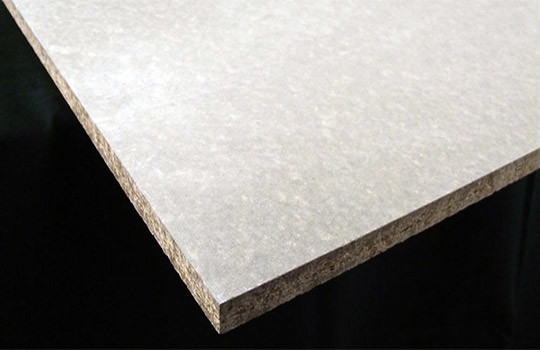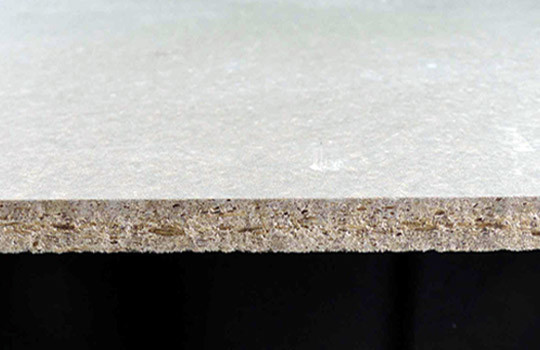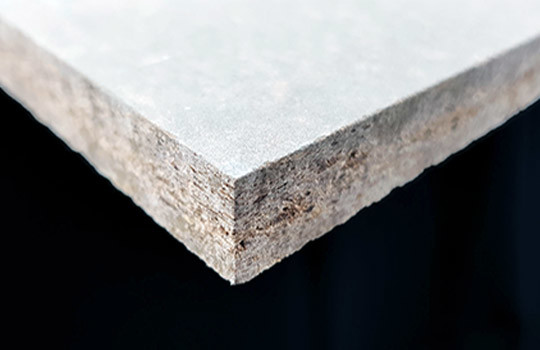 Meticulously researched and aggressively tested, Versapanel is a product of which we are justifiably proud and a product in which you can be justifiably confident.
Tested to BS 476-6 & BS 476-7 classified as Class 0 building board with a Class 1 surface spread of flame. European classification to EN 13501-1: B1 B-s1,d0
Fully external/internal
Rot, moisture and impact resistance
CE marked
Available in bespoke sizes and edge details
Has its own range of approved fixings
Versapanel is one of the most versatile building boards available and can be widely used in many projects for a range of applications such as:
Sheathing Panel for Steel Frame Systems
Sheathing Panel for External Wall Insulation
Partition Walls for Fire and Acoustic Performance
Acoustic Floors, Roof and Ceilings
Versapanel has been used in almost every conceivable form of commercial, residential and public sector building type, including:
Office Buildings
Schools
Hospitals
Libraries
Apartment Blocks
Industrial Premises
Retail Outlets
Leisure Centres
Agricultural Buildings
Sporting Arenas
Student Accommodation
Hotels
Internal
Versapanel board has advantages over other types of board materials due to its strength, workability and durability coupled with the three main attributes: fire resistance, sound reduction and high performance in the presence of moisture.
Versapanel may be confidently used in wet areas. It is ideal for cold storage, food processing and all areas which highlight the importance of hygiene.
The first choice for internal walls and partitions in domestic or public buildings due to its impact resistance, fire resistance and sound reduction properties.
External
Proven performance as an external sheathing material – Versapanel has been successfully used in prefabricated panel construction – both single skin and sandwich application. Also, due to the excellent "racking" properties of Versapanel, the board may be utilised as a structural member in a composite building application.
Versapanel in an untreated state is weather resistant and will not degrade with permanent exposure, even if subjected to freeze/thaw conditions.
However, in general, a surface treatment is recommended for external applications. A range of paint and textured finishes may be used.
Other Applications
Can also be used for a wide range of applications including as a backing board (carrier panel) to cladding systems such as:
Insulated Render Systems
Terracotta Cladding Systems
High Performance Cladding Panels
Brick Slip Systems
The benefits of using Versapanel in this type of application is: to help acoustic performance, fire performance, impact performance, pull out performance for approved fasteners, tested for wind loadings, ventilated rainscreen cavity.
Versapanel board is smooth in texture and light grey in colour. It is available in two types of finish: unsanded and calibrated. Calibrated is normal production, simultaneously sanded on both sides; it is used where minimal thickness tolerance is required. Although generally smooth this should not be relied upon for decoration.
We are confident that we have the cement particle board to suit the particular requirements of practically any construction project. Use the handy table below to select that Versapanel size, finish and detail for your needs.
Product Range
Standard stocked panels 2400 x 1200 unsanded grade.
All other sizes available to order.
Unsanded
2400 x 1200
2440 x 1220
2800 x 1200
3200 x 1200
Calibrated
2400 x 1200
3050 x 1220
Characteristics for Unsanded and Calibrated Boards
Thickness of board

8mm

10mm

12mm

16mm

18mm

22mm

24mm

28mm

36mm

40mm

Approx weight per m2 in kg

10.4

13

15.6

20.8

23.4

28.6

31.2

36.4

46.8

52

Airborne sound reduction for
a single board in dB

30

31

31

33

33

34

35

36

37

38

For additional construction advice on systems please contact technical sales
Manual nailing without
pre drilled holes

Y

Y

Y

N

N

N

N

N

N

N

Manual screwing with pre-drilled holes suits all thicknesses
Screwing / power nailing
without pre drilled holes

Y

Y

Y

Y

Y

Y

Y

Y

Y

Y

Power screwing and nailing suits all thicknesses
Nailing / screwing into edges

N

N

N

Y

Y

Y

Y

Y

Y

Y

Edge profiling
Rebate

N

N

N

Y

Y

Y

Y

Y

Y

Y

Groove

N

N

N

Y

Y

Y

Y

Y

Y

Y

T&G

N

N

N

Y

Y

Y

Y

Y

Y

Y

General internal lining and external cladding
400mm

Y

N

N

N

N

N

N

N

N

N

600mm

N

Y

Y

Y

Y

Y

Y

Y

Y

Y

Ceilings and soffits
400mm

Y

Y

Y

N

N

N

N

N

N

N

600mm

N

N

Y

Y

Y

Y

Y

Y

Y

Y
Robust testing is at the heart of everything we do at Euroform and is very much a part of our ethos of continuous improvement.
We don't want Versapanel to simply be 'fit for purpose', meeting current building regulations because it has to; we want to a cement particle board that goes beyond current legislation and anticipate the legislative changes of tomorrow.

BS EN 634 1 and 2, governing particle boards' and wood-based panels' tensile strength, mechanical properties, density, load factors and resistance to humidity, frost and hard body impact
Tested to BS 476-6 & BS 476-7 classified as Class 0 building board with a Class 1 surface spread of flame. European classification to EN 13501-1: B1 B-s1,d0
BS EN 594:2011 Racking Test
BS EN 12086: 1997, determination of Water Vapour Transmission Properties
Concentrated/UDL Load Testing to EN 1195
CE Marked
Have questions about Versapanel?
Let's arrange a consultation.
About Euroform
Since 1995, Euroform has been successfully developing, fabricating and supplying materials for the construction industry. In that time, they have developed and cemented a reputation for innovation, expertise and reliability.
Address
Euroform
Unit 2, Lyncastle Road, Appleton,
Warrington, WA4 4SN
Tel: +44 (0) 1925 860999
Fax: +44 (0) 1925 860066
Email: Sales@euroform.co.uk