Versapanel® is a cement bonded particle board intended for both internal and external use which has very high levels of performance in the presence of moisture.
Versapanel® is CE marked in accordance with EN 13986 which specifies the requirements for particle boards bonded with Ordinary Portland Cement (OPC) for use in dry, humid and exterior conditions. 
Euroform have invested years of experience, expertise and commitment to excellence in creating a cement particle board that is specified for its quality, performance and reliability. As a result, Versapanel® is one of the most comprehensively tested cement particle boards on the market.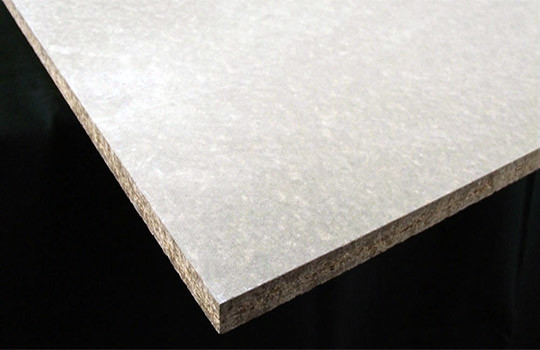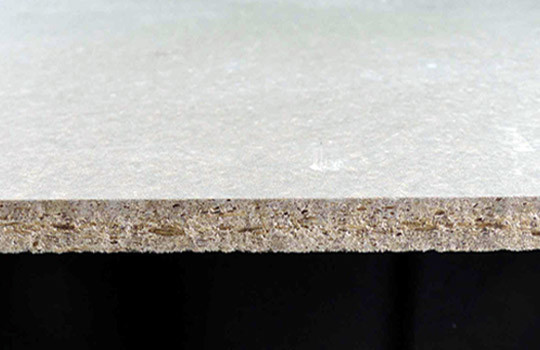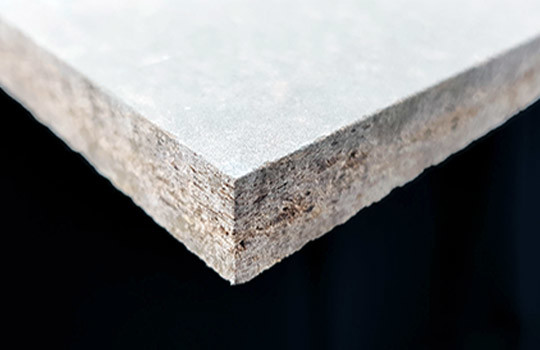 Meticulously researched and aggressively tested, Versapanel® is a product of which we are justifiably proud and a product in which you can be justifiably confident. 
Reaction to Fire Classification BS EN 13501-1: B-s1,d0

Fully external/internal
Rot, moisture and impact resistance
CE marked
Available in bespoke sizes and edge details
Versapanel
®
is one of the most versatile building boards available and can be widely used in many projects for a range of applications such as:
Sheathing Panel for Steel Frame Systems
Sheathing Panel for External Wall Insulation
Acoustic Floors, Roof and Ceilings
Versapanel® has been used in almost every conceivable form of commercial, residential and public sector building type, including:
Office Buildings
Schools
Hospitals
Libraries
Apartment Blocks
Industrial Premises
Retail Outlets
Leisure Centres
Agricultural Buildings
Sporting Arenas
Student Accommodation
Hotels
Internal
Versapanel
®
board has advantages over other types of board materials due to its strength, workability and durability coupled with main attributes:
sound reduction and high performance in the presence of moisture.
Versapanel® may be confidently used in wet areas.
The first choice for internal walls and partitions in domestic or public buildings due to its impact
resistance and sound reduction properties.
External
Proven performance as an external sheathing material – Versapanel
®
has been successfully used in prefabricated panel construction – both single skin and sandwich application. Also, due to the excellent "racking" properties of Versapanel
®
, the board may be utilised as a structural member in a composite building application.
Versapanel® in an untreated state is weather resistant and will not degrade with permanent exposure, even if subjected to freeze/thaw conditions. However, in general, a surface treatment is recommended for external applications. A range of paint and textured finishes may be used.
Other Applications
Can also be used for a wide range of applications including as a backing board (carrier panel) to cladding systems such as:
Insulated Render Systems
Terracotta Cladding Systems
High Performance Cladding Panels
Brick Slip Systems
The benefits of using Versapanel® in this type of application is: to help acoustic performance, impact performance, pull out performance for approved fasteners, tested for wind loadings, ventilated rainscreen cavity.
Product Range
Panel Type: unsanded or calibrated Thicknesses:
Standard Sizes: 2400 x 1200mm 8, 10, 12, 14, 16, 18, 20, 22, 24 & 28mm
Non Standard Sizes: 2600 x 1200mm, 2800 x 1200mm, 3050 x 1220mm
Density (average)
1300Kg/m3
Modulus of Elasticity
4500N/mm2
1.Thickness tolerances
Calibrated:
unsanded

8-28mm+/-0.3mm
8-10mm+/-0.7mm
12-20mm+/-1.5mm
22-28mm+/-1.5mm
2. Length:
3. Width:
4. Squareness:
+5mm
+5mm
-2.5mm on panel diagonal difference
Bending Strength (min)
9N/mm2
Permissible design value
2.25N/mm2
Tensile strength
(parallel to surface)
4.0N/mm2
Tensile strength
(perpendicular to surface)
0.5Nmm2

Compression strength (min)
15N/mm2
Surface Alkalinity
pH between 11 and 13
Moisture Content
(ex production)
9% +/- 3% by weight
Thickness Swelling
(24hrs immersion)
0.7% (average)
Dimensional
Stability
0.11% for an increase in relative humidity from 65% to 90%

0.16% for an increase in relative humidity from 65% to saturation
Thermal Conductivity
0.26.W/m.k.
Coefficient
Sound Insulation
See characteristics guide
Also acoustic information
Reaction to Fire
EN 13501-1:
(B-s1,d0 Versapanel®)
Bonding Agent
Versapanel® is odourless,
As the bonding agent is free from formaldehyde.
Robust testing is at the heart of everything we do at Euroform and is very much a part of our ethos of continuous improvement.
We don't want Versapanel to simply be 'fit for purpose', meeting current building regulations because it has to; we want to a cement particle board that goes beyond current legislation and anticipate the legislative changes of tomorrow.

BS EN 634 1 and 2, governing particle boards' and wood-based panels' tensile strength, mechanical properties, density, load factors and resistance to humidity, frost and hard body impact
Tested to BS 476-6 & BS 476-7 classified as Class 0 building board with a Class 1 surface spread of flame. European classification to EN 13501-1: B1 B-s1,d0
BS EN 594:2011 Racking Test
BS EN 12086: 1997, determination of Water Vapour Transmission Properties
Concentrated/UDL Load Testing to EN 1195
CE Marked
The following documents are available to request for Versapanel®
– Declaration of Performance (DoP) CE
– Product Safety & Handling Information
Being "to request" ensures we provide the correct document version relative to the project timeline – completed, in process or prospective.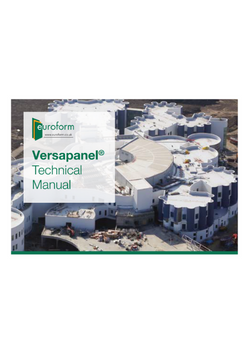 Download our Versapanel Technical Manual
To ensure you have the latest version of this document call 01925 860 999.
Download our Accessories Brochure
To ensure you have the latest version of this document call 01925 860 999.
Enquire about Versapanel®
Have questions about Versapanel®?
Let's arrange a consultation.
More Case Studies from Euroform
Euroform's products, expertise and outstanding technical support in action.
This exciting project, situated close to a major wind farm, required a sheathing board with exceptional pull-over performance; and the need for unusual board sizes meant that waste was an issue, particularly in light of the architect's BREEAM 'Very Good' rating ambitions.
The Project: Hugh Baird Community and Higher Education Centre, Liverpool 
Project Value: £8 million 
Main Contractor: Wates Construction North West 
Sub-Contractor: Sound Interiors Limited 
Product: Versapanel
Size: 1200 — 2800 — 12mm 
Quantity: 2,000m2
Read More
About the Project
An £8 million, 2,600 square metre project, the new Hugh Baird Community and Higher Education Centre in Liverpool offers an innovative mix of facilities, not only for Hugh Baird's students and apprentices but also to the local community, schools and businesses.
The facility will incorporate a University Centre, a flexible performance and exhibition space, a public library and a Jobcentre Plus. A new Business Development Centre, providing professional training for local businesses, is also to be a core feature.
Architects IBI Taylor Young have created a striking modern design, incorporating a semi-rotunda feature and a three-storey overhanging box structure.
The Challenge
There were two key challenges on this project for sub-contractors Sound Interiors Limited. Firstly, the unusual design called for non-standard panel sizes. This is becoming all too common as contemporary architecture moves increasingly toward the unique and, in some cases, the downright eccentric.
Secondly, the five-storey structure is located in a windy area; so windy, in fact, that, less than a mile away, you can find the Port of Liverpool 10MW wind farm, capable of generating electricity for 5,500 homes. Where wind is a factor, the pull-over performance of any building boards used is critical, particularly during construction when wind can penetrate the structure and create areas of negative wind pressure.
The Solution
Size is Everything
As modern British architecture moves away from the conventional, the challenges for construction professionals like Sound Interiors increase. Whilst, in the past, construction has largely been a logistically focused endeavour — the 'when' and 'where' of it all — increasingly, the question that dominates the pre-construction phase of a project is 'How?'
The skill and experience of Sound Interiors came into play not only in applying their technical knowhow to the challenges of constructing an overhanging box and creating a curving rotunda from flat building boards, it also influenced their choice of materials.
Said John Sheeran, Contracts Manager at Sound Interiors Limited, "We opted for Euroform's Versapanel on this project — and numerous other projects — because it's easy to work with and reliable. Plus we get exceptionally good technical support from the team at Euroform. For the Hugh Baird project, where lots of unusual sizes were required, the fact that Versapanel is available in a larger 1200 — 2800 — 12mm size meant we could dramatically reduce wastage. This material-conscious approach also helps us support IBI Taylor Young's ambition of achieving a BREEAM rating of 'Very Good' for the building."
Under Pressure
It's no coincidence that four 125-metre Nordex N90, 2.5-MW turbines, capable of producing a total of 10MW of electricity, have been strategically located just a mile or so away. This is a windy area of Liverpool. Thankfully, Sound Interiors' commitment to Versapanel also resolved this second challenge, reducing the effects of negative wind pressure during construction.
John Taylor, Business Development Manager at Euroform, said, "Versapanel makes the ideal sheathing panel for challenging construction environments. For areas of high wind load, such as coastal regions, a board with effective wind-load and pull-over performance can be extremely important. Obviously, no two projects are alike, and we're only too happy to work closely with professionals like Sound Interiors to ensure the best possible outcome."
Conclusion
This isn't the first time that Sound Interiors, Euroform and Versapanel have come together to overcome adverse weather condition. At Gogarth School in Llandudno, freezing temperatures and driving rain presented a significant challenge. At Hugh Baird, it was strong winds. In both cases a desire to reduce waste was a key commitment of all parties involved. And in both cases, a successful outcome was enjoyed by all.
A combination of factors, including high winds, freezing temperatures and widely varying stud centres led award-winning walls and ceilings specialist Sound Interiors to Euroform's cement particle board, Versapanel.
The Project: Gogarth School (Ysgol-Y-Gogarth), Llandudno
Main Contractor: Willmott Dixon Construction
Subcontractor: Sound Interiors Limited
Product: Versapanel
Size: 1200mm x 2800mm x 12mm
Quantity: 2,500 square metre
Read More
The Challenge
Gogarth School (Ysgol-Y-Gogarth) is situated less than 300 metres from Llandudno Bay, with no barriers or windbreaks between it and the sea, making exposure to the elements particularly problematic. What's more, the UK's weather is becoming increasingly harsh and unpredictable. According to Met Office statistics, 2012 was the second wettest year since records began. And March this year was the coldest since 1962.
John Sheeran, Contracts Manager at Sound Interiors Limited, said, "The biggest challenge of the project was the weather conditions we encountered over the nine-week programme. We were informed of the temperature dropping as low as -12 degrees on some occasions, not to mention the prevailing winds. On a few occasions our supervisor and I had no choice but to take the decision to abandon our works." 

John continues, "In addition, the majority of the steel framing we had to fix our boards to 'installed by third parties' had massively varying stud centres."
The Solution
By specifying Euroform's Versapanel, the fully external cement particle board, both challenges were overcome.
Stud Centres
The varying stud centres issue was easily addressed by the availability of Euroform's Versapanel in a 1200mm x 2800mm size. "Using this size board reduced waste that would normally be generated when using a 2400mm x 1200mm board," said John.
The problem presented by the inclement British weather and the close proximity of the sea was also resolved by Euroform's Versapanel.
Heavy Rainfall
The British Research Establishment Centre for Timber
Technology and Construction, in their BRE Digest 447 Part 3, recommend cement particle board 'where there is a special requirement for moisture resistance.'
This requirement for moisture resistance doesn't simply apply to a board's performance in the completed building; it is also a critical factor during construction. Euroform's Versapanel can be exposed to extreme conditions indefinitely and, even when soaked, will dry out and maintain its original robust performance.
Freezing Temperatures
Euroform's Versapanel is manufactured to BS EN 634 Parts 1 & 2, the British Standards that govern particle boards' and wood-based panels' tensile strength, mechanical properties, density, load factors and resistance to hard body impact. Moreover, and especially relevant to the Ysgol-y-Gogarth project, BS EN 634 Parts 1 & 2 govern a board's resistance to frost.
Conclusion
A robust, versatile building board with the full support of the Euroform technical team, Versapanel proved to be the perfect solution to the challenges faced by Sound Interiors on the Ysgol-y-Gogarth project.
This groundbreaking project required a sheathing board that would form an integral part of an insulated render system whilst meeting project-specific acoustic requirements.
The Project: Northumbria Specialist Emergency Care Hospital
Project Value: £70 million
Architect: Keppie Design
Main Contractor: Lend Lease
Subcontractor: Farpod Dry Lining
Product: Versapanel

Quantity: 30,000m2
Size: 2800mm x 1200mm x 12mm
Read More
Specialised but multifunctional.
It sounds like a contradiction in terms. Yet 'specialised but multifunctional' is a particularly apt description of Northumbria Specialist Emergency Care Hospital, a pioneering £70 million project, and the first hospital in the UK to house Accident and Emergency consultants 24-hours a day, seven days a week.
Although specialising in emergency care, the 316-bed facility, with seven wards and six operating theatres, is designed to treat the most pressing heart, respiratory, stroke, gastro-intestinal and gynaecological conditions. What's more these front-line, critical-care services are fully supported by radiology, blood sciences and pathology departments. The facility serves a sweeping geographical area, from Hexham midway between Newcastle-Upon-Tyne and Carlisle, to Berwick-Upon-Tweed, high up on the East coast.
Specialised but multifunctional. Focused but wide-ranging.
The same qualities 'to do not just one thing exceptionally well, but many' is often required of construction materials.
When award-winning, multidisciplinary architects Keppie Design created their vision for the hospital, they produced something that was both aesthetically striking and extremely practical. The design comprises a series of interconnected circles, creating the impression of a vast, contemporary castle, complete with turrets.
These elegant curves present a challenge in steel-frame construction, which utilises sheathing panels. A solution was required that would work with an external render over faceted elevations to create a seamless curvature.
As a Versapanel case study, you'd expect Versapanel to enter the narrative at this point. In fact, it was another exterior board that was originally specified for this project.
But this did not deter Euroform.
John Taylor, Euroform's Technical Manager, said "We take a very proactive attitude to projects, identifying developments to which we can apply our technical expertise and add value, and pursuing them. Something as pioneering as the Northumbria Specialist Emergency Care Hospital demands an interdisciplinary, system-based approach and we see that very much as our forte."
The complexity and demands of this project made it a natural candidate for BIM. As such, when the time came to change the specification to Euroform's Versapanel, it was easy to engage with all relevant stakeholders, and for the decision to be reviewed and approved.
However, Euroform's involvement didn't end with the simple receipt and completion of an order.
Clare Whitelam, Euroform's General Manager, said, "We're not simply a supplier of building boards as a palletised commodity. Our approach is system-based and technically-lead at the outset and driven by a commitment to customer service throughout and particularly during the concluding stages of a transaction. We place a great deal of importance on after sales support and on ensuring our deliveries correspond with our customers' requirements. For the Northumbria Specialist Emergency Care Hospital, we drove the supply of Versapanel, over 30,000m2, through our UK-wide distribution network, in this case our Newcastle branch. The customer was able to call off quantities of board as and when needed, secure in the knowledge that the product was held locally and the supply chain robust."
Just as Northumbria Specialist Emergency Care Hospital can be said to be specialised and multifunctional, so can Versapanel, a cement particle board that is an approved carrier of externally insulated render systems with excellent fire and acoustic resistance. Moreover, Euroform itself can be seen as a specialist supplier of building boards but, at the same time, it provides detailed technical advice to solve complex construction problems, works with construction partners to form powerful alliances and subscribes to a customer-first ethos that seeks to accommodate the many day-to-day practical challenges faced by its customers.
Ultimately, it was Euroform's 'points of difference' and the added value they bring to any construction project that resulted in the originally specified cement particle board being replaced with Versapanel, because it is these points of difference that have resulted in the creation of such an exceptional product as Versapanel.
About Euroform
Since 1995, Euroform has been successfully developing, fabricating and supplying materials for the construction industry. In that time, they have developed and cemented a reputation for innovation, expertise and reliability.
Address
Euroform
Unit 2, Lyncastle Road, Appleton,
Warrington, WA4 4SN
Tel: +44 (0) 1925 860999
Fax: +44 (0) 1925 860066
Email: [email protected]