In need of a little break but still want to keep yourself in that architectural headspace? Why not take our architectural trivia quiz, or watch a TED Talk that takes a more oblique look at the social art and artful science of architecture?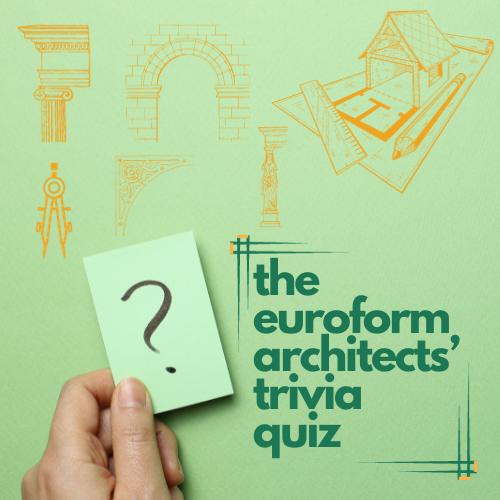 Organic algorithms in architecture
Turning dunes into architecture
How architecture helped music evolve
How architecture can create dignity for all
Will there ever be a mile-high skyscraper?
Architecture for the people by the people
3 warp-speed architecture tales
Why great architecture should tell a story
Hedonistic sustainability
17 words of architectural inspiration
Architecture that repairs itself?
Architecture that senses and responds
The Blur Building and other 'tech' architecture
Why architects need to use their ears
How the tallest skyscraper was built
How architecture can connect us
A tour of modern architecture
Building the Seed Cathedral
Using nature's genius in architecture
Buildings that blend nature and city
Let's arrange a consultation to discuss your business requirements
About Euroform
Since 1995, Euroform has been successfully developing, fabricating and supplying materials for the construction industry. In that time, they have developed and cemented a reputation for innovation, expertise and reliability.
Address
Euroform
Unit 2, Lyncastle Road, Appleton,
Warrington, WA4 4SN
Tel: +44 (0) 1925 860999
Fax: +44 (0) 1925 860066
Email: [email protected]