Euroform Products have supplied their EZWall real-brick slip system and Versapanel cement particle board to a family to be featured on an episode of the BBC's DIY SOS: The Big Build, to be broadcast next summer. EZWall and Versapanel were used as part of an extension and improvements that will bring a life-changing transformation to the home of the family in Warrington.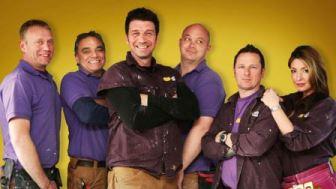 For those unfamiliar with the show, the building projects are carried out by local construction businesses donating their time and materials and working to an extremely tight schedule. This project was no different. Fortunately, both EZWall and Versapanel lend themselves to fast-build projects. We were delighted to have been invited to participate. Not only were we able to do something positive for the local community, we also had an opportunity to demonstrate just how fast and effective the Euroform EZWall Real Brick Slip System can be. Read on, or watch the short video slideshow below.
The Versapanel, Euroform's cement particle board, was fixed to a timber frame system, acting as a substrate for subsequent layers, including the EZWall real-brick slip system. Because EZWall uses real-brick slips, new extensions can be seamlessly blended with existing brickwork.
EZWall also utilises a galvanised zinc-coated steel siding which affixes to the substrate without the need for any specialised components. This steel siding provides even weight distribution, sidewall wind loading. Double-steel tabs not only allow the brick veneer's shear weight to rest on a true mechanical (structural) support system, they also distribute the brick slips evenly and easily across he siding, creating the appearance of flawlessly executed brickwork.
Euroform not only provided materials to the family appearing on the show, they also provided manpower. Factory Supervisor, Jim Nicholson, and Sales Office Supervisor, Mark Atkinson, were on site for three days in pretty unpleasant November conditions. The DIY SOS team were very welcoming and, according to all, there was 'a real buzz' onsite, with the EZWall system attracting a lot of interest.