Euroform's Versapanel cement particle board is currently being incorporated into a major work of art by London-based artist Alex Chinneck. The sculpture entitled 'Miner on the Moon' is unlike any other project Euroform have ever been involved in, as the building's facade is to be turned upside-down. Built in 1780, the site on Blackfriars Road, London, was originally used as livery stables and later as a pawnbroker's premises but it has been largely abandoned in recent decades.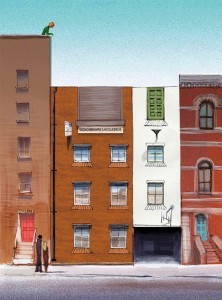 Why Versapanel?
Versapanel is to be fitted to the building substrate and will be clad with real-brick slips, similar to Euroform's EZ-Wall. Versapanel was selected due to its comprehensive testing, ensuring Class fire resistance and rot, moisture, frost and impact-resistance. Versapanel is a tried, tested and trusted board that takes the unpredictable British weather in its stride, having been used in such extreme conditions as sub-Arctic Norway and the intense humidity of tropical Saint Lucia.
The adaptable nature of Versapanel cement particle board means it can be used in a wide range of applications: steel frame systems, timber frame systems, EWI systems, as well as in acoustic floors, ceiling and roofs. We'll need to check our Previous Projects file, but we're pretty sure this is the first time that Versapanel has been used as the main structural component in a work of modern installation art!
This project will be on-going through the Merge Art, Music and Performance Festival with completion scheduled for late October.
About Alex Chinneck
Alex Chinneck is a London-based sculptor and designer, a graduate of the Chelsea College of Art & Design. He is currently the Creative Director of The Sculpture House, a platform that enables emerging artists to produce innovative items of furniture.
Alex's previous building-related projects include, 'Telling the Truth Through False Teeth' in which 312 identically broken windows were installed in the façade of a derelict factory in London. In total, 1,248 pieces of glass were used. Last year, a piece entitled 'From the Knees Of My Nose to the Belly of My Toes', in which the façade of a building in Margate appeared to have slid down, gathering in the front yard and exposing the derelict upper story, attracted a great deal of praise.